In 2020, many engaged couples' plans to tie the knot in front of friends and family have been canceled due to isolation measures in response to Coronavirus. But in different parts of the world, from the United States to Argentina and the United Kingdom, some couples have not given up saying yes to their future together: they choose on Zoom Weddings, in videoconference with hundreds of guests.
The stories of optimistic couples who have decided to exchange virtual vows have filled blogs and newspapers in these recent days. Some were able to perform the ritual in person, before the state authorities, but invited friends and relatives to attend the ceremony through the computer. Others have done everything from the living room of their home. Unions of this second type will require further steps to be legally recognized by the state, but, however, many couples have already done so. Among the various we report some, which seem really interesting.
Ben Jackson and Sophie Austin – London Zoom Wedding
Croydon couple, Ben Jackson and Sophie August had planned to get married in March 2020, in front of 200 special friends and family. In light of recent circumstances, they choose to hold a Zoom Wedding.
The idea of celebrating the wedding on the computer came from the pastor, who was unsure whether the couple would accept it. Sophie Austin, 26, singer and actress, said she was sorry that she had not worn the wedding dress she had bought and that she had stayed in the store but that a simple wedding like the one on Zoom was intimate and special, even if physically they weren't all there with them. "It made it very clear what was important: the two of us sharing our promise."
Josh and Jillian Ogundele – Savannah, Georgia Zoom Wedding
A similar story is that of Josh and Jillian Ogundele, from Savannah, in the United States, married in front of Zoom and in front of the pastor who celebrated the wedding. More than a hundred invited to the conference call. "We had no intention of making a toast but the people on call had brought champagne and glasses of wine and they were all ready to toast," said Jillian, "Josh doesn't dance but we convinced him to do a first dance. We didn't have an organization precise, but the way everyone supported us made this moment unforgettable. ". Full story
Tracy Meng and Kyle Matson San Francisco Zoom Wedding
Tracy Meng, vice president of Checkout.com and Kyle Matson, head of Robinhood, had planned to get married on Saturday March 28, with 120 guests. Now, however, they are organizing a Zoom ceremony. The two live in San Francisco and worked several months to bring together a team of vendors from Hawaii and California to meet in Kauai. Grab their full story here.
Preet Singh and Neet Kaur India Zoom wedding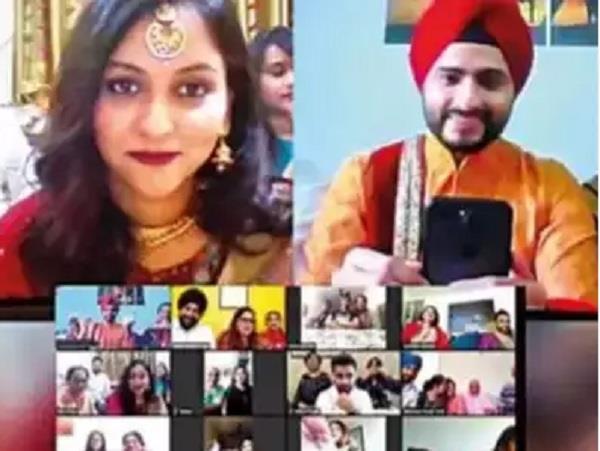 A couple in India who decided to get married during a video call showed that love prevails even when the world is dealing with a pandemic.
A merchant marine officer from Mumbai, Preet Singh and Neet Kaur from Delhi met online a year ago and made friends. They did not know that they would also get married on the Internet. Full story.
Alvin Lee and Dorothy Driskell – Ohio Zoom Wedding
90-year-old man and 85-year-old woman hold Zoom marriage after the spring wedding was canceled due to coronavirus
Ohio elders Alvin Lee, 90, and Dorothy Driskell, 85, met and got engaged in 2019. When the coronavirus pandemic derailed their plans for a big spring ceremony, the couple went close to the times and probably had the most "2020" wedding ever. Full story.
Scott Westergren and Kristy Washer Kentucky Zoom Wedding
Scott Westergren and Kristy Washer were planning a beautiful wedding in Louisville, Kentucky in March. Unfortunately, covid19 has destroyed their plans. But Westergren didn't want to give up. He said to his boyfriend, "Look, I don't care what we do. Even if I have to marry you during a video call, we will get married on March 26th." They stared at each other, realizing at the same time that a video call was the perfect answer. Full story.
Gina Frangello and Rob Roberge Chicago Zoom Wedding
Gina Frangello and Rob Roberge live in Chicago and had planned a wedding in California. The two writers soon realized that the wedding had to be canceled because of the pandemic. But this did not stop them, because Frangello and Roberge, on the advice of a friend, sent text messages to distant friends asking for their e-mail addresses, to send the invitation of the ceremony online. Full story
Jenessa Schwartz and Trevor Davis California Zoom Wedding
Schwartz and Davis is another perfect example of a successful zoom wedding. A particular urgency prompted their decision to marry virtually rather than in the traditional way. The bride is fighting colorectal cancer, and the coronavirus has not been able to stop her desire to get married and enjoy life. On a Sunday afternoon in early May, Jenessa Schwartz and Trevor Davis will get married in their Northern California backyard. It will be a small affair — just the two of them, Schwartz's dad and her two young children. And 50-plus guests dialing in via Zoom.  Full story
Jalna Silverstein and Asael Papour New York Zoom Wedding
Before the pandemic, Jalna Silverstein and Asael Papour were planning a Jewish wedding on Manhattan's Upper West Side. They had booked a band, a catering service and a ceremony planned for the synagogue in which Silverstein had grown up. Unfortunately their plans have changed, but that hasn't deprived them of a fantastic day. One of the best of their lives, albeit in the midst of a gloomy period. Full story
Planning your own Zoom Wedding?
Get started with our guide below